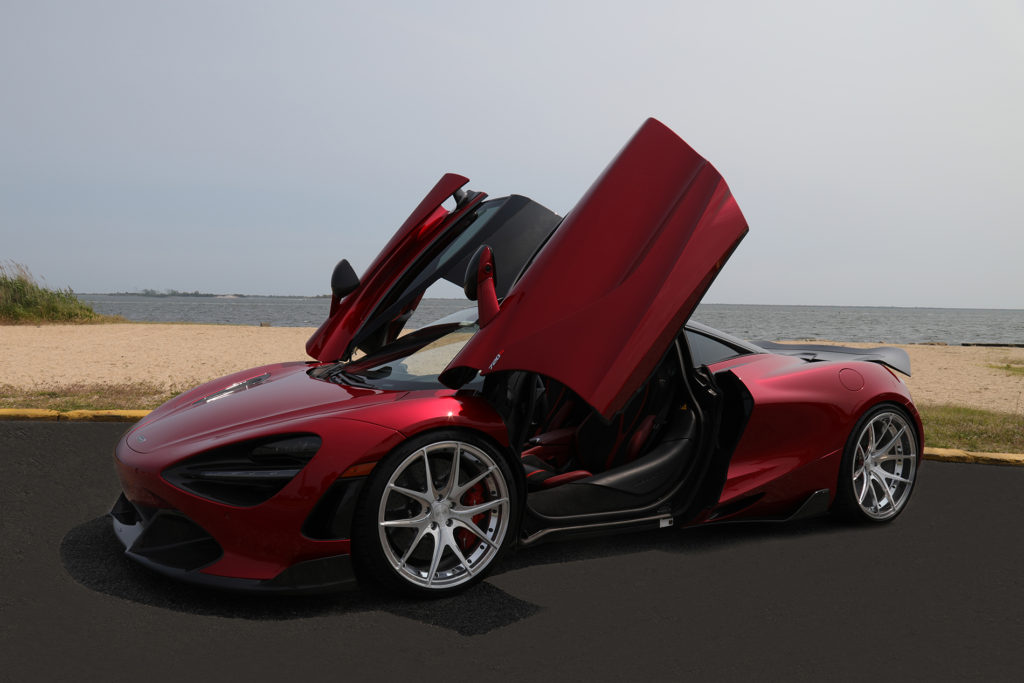 If you're interested in renting the most technologically advanced exotic cars in Long Island  here it is.   The coolest looking exotic car rental in Long Island. Our McLaren 720s is notoriously known for creating memorable supercars.
Our Mclaren 720S is equipped with Vorsteiner Silverstone Carbon Front Aero front spoiler, Vorsteiner Silverstone Rear diffuser, Vorsteiner Silverstone Carbon Fiber Side Blades and Vorsteiner Silverstone active long tail wing blade. Not mention its equipped with Vorsteiner luxury performances forged two piece wheels.
If you're ready to rent a high-end exotic car built by one of the most respected car manufacturers in the world then give us a call. McLaren has achieved eight World Championships and won 182 races so you know you're getting a quality car.
Rent our McLaren 720s today!
Famed automaker & Formula 1 champion McLaren's 720s first sole entry in the consumer automotive space since 1998 was awaited with baited breath.
Delivering nearly 600hp in a power-packed twin-turbo V8,  is a sensory overload in almost every way. The engine roars, the turbo kicks, and the tires grab the road true to its F1 heritage.
Our McLaren 720s is  one of the most exotic-looking vehicles on the road – and it gives the competition (namely the Ferrari 458 Italia) a real run for its money.
Prepare yourself – Our McLaren 720s no regular sports car. It is truly a super car.
And our warning still applies: This car makes everything else on the road look boring, and its exotic look doesn't only turn heads — it stops traffic (so be careful!)
Every piece of technology in our McLaren 720s is the latest and greatest, and works in harmony with the car's systems to achieve maximum performance. When you drive our McLaren 720s rental alternative, you're experiencing one of the most advanced vehicles ever made
The lightweight (2,900 pounds) mass and superior power result in performance fanatics' fantasies come alive. Acceleration from 0-60 mph takes 2.8 seconds, and 0-100 mph is accomplished in 5.5 seconds. A quarter-mile gallop is completed in 10.1 seconds. The top speed is 212 mph. The specs provide drivers never-ending doses of adrenaline.
Getting ready for the speed fix is another McLaren wonder. The twin dihedral doors swing open, and a cabin as plush, sophisticated and streamlined as a Gulfstream jet is unveiled. It's tight quarters, but sensory pleasing with a heavy mix of carbon fiber and top-grade leather.
Supercars aren't always known for their smooth rides. Our new McLaren 720s  is an exception. Our MacLaren 720S features a suspension system that combines hydraulics and state-of-the-art processors, it grips the road and offers a surprisingly smooth ride in Comfort, Sport and Track modes.  It's always good to have choices.