Autostrade in Glen Cove
June 10, 2016

Posted by

mindsetpro
Comments Off

on Autostrade in Glen Cove
Autostrade Glen Cove is back in downtown Glen Cove. This bi-weekly event is held every other Thursday (May 26, June 9, June 23, July 7, July 21, August 4, August 18, September 1) through September 1st from 6 p.m. to 9 p.m. on School Street in Glen Cove. Participants who want to display their car in the show, a $10 donation is collected with all proceeds benefitting the Glen Cove Volunteer Fire Department. Admission is free to area residents who wish to walk the downtown and admire the exotic cars.
The City of Glen Cove closes thru traffic and invites Autostrade Glen Cove for spectators and Car Enthusiast to admire the vehicles. There is am estimated 170 exotic and vintage autos that are on display. "Autostrade Glen Cove exemplifies the diversity of our City's summer events and our resident's enthusiasm for cars and supporting our downtown restaurants and volunteer Fire Department," said Mayor Reggie Spinelli of Glen Cove. The driving force behind this annual event is Joe LaPadula of Glen Cove's Martino Auto Concepts. "We invite car enthusiasts from all over Long Island to come discover Glen Cove. Enjoy a meal Al Fresco, walk the closed streets, and gawk at the many rare and exotic cars on display; all for a good cause," said Joe LaPadula.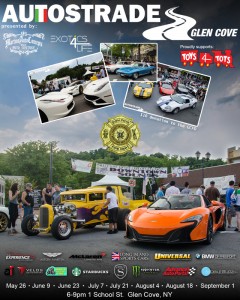 Click on the link below to view our coverage of the Autostrade Glen Cove.
View The Pics of The Second Week of Autostrade Here
Autotrade Glen Cove is presented by Ferrari Maserati Long Island, Long Island Sports Cars, AI Media, Strut, Velos Designwerks, Monster Energy, Starbucks, Mavis Tire, Advance Auto Parts, Universal Autosports, Mobile Sudz, and BMW of Freeport.